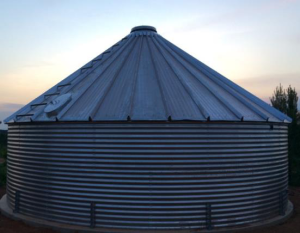 Seattle based RainBank Rainwater Systems and Contain Water Systems Inc. have brought back affordability and expertise to the steel water tank market in the Seattle area. No matter if your project is commercial or residential, rainwater harvesting, or fire suppression, costs are always a concern for any project. Many dealers are third or even fourth party in steel water tank sales, of course each adding their markup.
As a Contain Systems, Inc. distributor, there is no middleman. We sell Contain Tanks to dealers and the public. We install what we sell. We don't use subcontractors and we stand behind our product line. Contain Water Systems Inc. water tanks carry a 20 year warranty when installed by RainBank Rainwater Systems or a certified installer. 
RainBank's president has more than 15 years experience in commercial and residential designs, installations, and sales of rainwater collection systems and is an ARCSA lifetime member,  ARCSA Northwest Regional Representative, ARCSA  Accredited Professional and an ARCSA Inspector Specialist. RainBank has put together an experienced team to provide customers with an integrated, progressive approach to sustainability, premium water systems. In-house engineering, licensed plumber, and experienced installers takes the guesswork out of a project for the architect, engineer, contractor and owner. 
OUR LIST OF SERVICES INCLUDE:
DESIGN: complete systems with performance specifications.
ENGINEERING & PERMITTING to meet all legal requirements from county and state agencies; cost effective, fast & hassle free.
INSTALLATION includes onsite management for installation of rainwater harvesting and storage systems.
CONSULTING is available throughout the US Including Hawaii, for all rainwater harvesting systems.
FEASIBILITY STUDY is the first step to take if you aren't sure about whether or not a rainwater collection system is right for your project. Contact us for a quote.  
PACKAGING customized kits & blueprints for do-it-your-selfers, those in remote locations, tract housing developers and large companies.
PRODUCTS:  RainBank is a dealer for the following rainwater system tanks and components:
Contain

 steel water tanks (carrying a 20 year warranty)

WISY Products

Davey pumps

Premier Plastics water tanks

National water testing

GC Solenoid valves

Filter cartridge replacements

Tuffy screen basket liners
Contact RainBank about your project today.