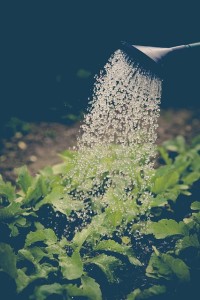 The rise of the rain collectors may sound like a scary Halloween prank, but it's a trend not to be ignored.
According to a recent article published on Earth911, more and more folks, from millennials to baby boomers, are learning how, and then capturing the rain, to mitigate higher water bills and help in conservation efforts, largely due to drought, but also associated to aging infrastructure.
Do you know that by capturing one inch of rainfall from the roof of a 1,000 square foot home, it means you could save up to 312 gallons of water (or what amounts to almost eight, 40-gallon baths).
If you want to know how much rainwater you might collect from your roof runoff, browse to the United States Geological Survey (USGS) rainfall calculator, which can estimate rainfall in areas from a couple square feet to several square miles.
Rainwater collection isn't only for the home gardener.
Businesses are using collected rainwater for washing vehicles and toilet flushing facilities. Schools are collecting rainwater for community gardens and new multi-family construction could collect rainwater for potable use for tenants or homeowners.
As rain collection trends, it can create a confusing frontier of information and solicitations.
If you decide to have a system professionally installed, we encourage you to know whether or  not your chosen contractor has the accreditation and experience needed for a properly installed, potable or non-potable system. Visit ARCSA (The American Rainwater Catchment Systems Association) to search for a designer and installer with the knowledge and experience to meet your needs.