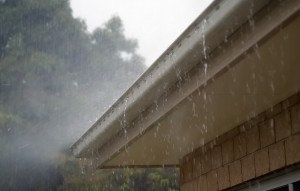 Rainwater collection has become an integral part of Seattle's construction projects, starting with design and architecture, to be in compliance with the new 2016 stormwater and drainage codes.  Collection and beneficial use can be key components toward compliance with these codes, which is especially important at the architectural design stage.
 Infiltration typically uses a detention system, which regulates and controls storm water runoff by slowing the rate of discharge to reduce impacts downstream, or a retention system, which stores stormwater runoff indefinitely, until it is lost through percolation, evaporation, or uptake by vegetation. Both are typical of rain gardens and small rain barrel systems.
Rainwater collection systems typically collect only roof runoff and conveys it to storage for future beneficial use. This can be for irrigation by combining detention and collection. Some Rainwise Program installations are combining these two in their approach toward best practices of stormwater management. Larger scale rainwater collection systems are typically comprised of corrugated steel water tanks used for irrigation, water closets, and wash down and can be included in the building's design. 
RainBank Rainwater Systems works closely with owners, architects, engineers, and contractors in the process of design, through installation, to achieve the desired results of both efficiency and aesthetic. RainBank is a full service rainwater collection systems contracting company offering designs, permitting and construction throughout Washington State and Oregon. 
New codes and permitting can be complex and sometimes frustrating, especially when the rules change. We remove the guesswork of all requirements of city, county, and state agencies and new codes. All designs are custom engineered to meet specific design requirements while onsite management and installations are by ARCSA accredited installers and licensed plumbers. We only specify and install the most reliable, effective components and warranty our craftsmanship. 
RainBank Rainwater Systems is the right choice when it comes to Rainwater collection for design, components, and installations. Contact us for more information: