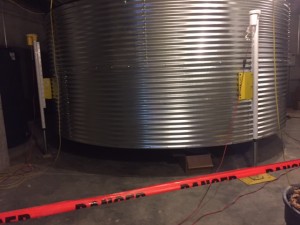 RainBank Rainwater Systems is constructing a 11,000 gallon flat roof CorGal tank for the Seattle Arts and Science Academy on Capital Hill in Seattle. 
The collected rainwater will be used for toilet flushing throughout the school. 
The challenge for RainBank was to construct the 10 foot tall tank in the basement of the building with very little head clearance. 
Electric bin jacks were used to lift the first two upper levels and roof assembly to place the bottom panels in place. 
Seattle Arts and Science Academy joins many newly constructed commercial buildings using rainwater collection to help mitigate storm water run off.
Here's a short video clip of the build: