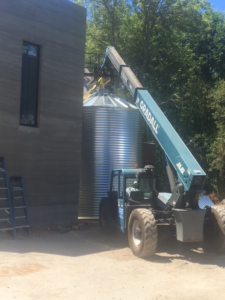 RainBank Rainwater Systems, a Seattle based company, is the distributor for Contain Steel Water Tanks. Contain tanks carry a 20 year warranty, unmatched by competitors. Because we are a Contain Tank distributor, we have eliminated the middleman (dealer) and pass the coast savings on to the customer.
We sell and install quality corrugated steel water tanks throughout the Pacific Northwest. With over 15 years of commercial and residential sales and installations of fire suppression tanks and Rainwater collection tanks, RainBank Rainwater Systems and Contain Steel Water Tanks have the experience to get the job done right – and on time.
When you purchase a steel water tank from RainBank, you get:
Highest quality products
Contain Water Systems tanks are backed by a 20-year warranty, which is significantly longer than anything else found on the market.
Tanks are engineered to meet seismic code compliance.
Tanks come with a standard engineering package and all models have the option to be wet sealed and stamped upon request.
Tanks come with a geotextile pre-liner and flexible membrane liner for potable and non-potable applications with tank liners secured to the walls with engineered brackets.
Tank sizes range from 6 feet to 48 feet in diameter, with capacity up to 428,602 gallons.
Tanks are field erected by certified installers.
Click here to read more about how Contain Tanks and RainBank can eliminate the middleman for your next project and contact us using the convenient form below: