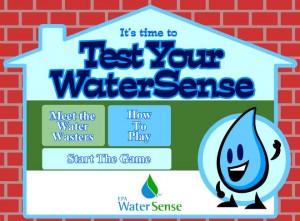 In Seattle, we are not facing a water shortage. Here at RainBank, we take aging water systems, water usage, storage and rainwater collection seriously.  But, that doesn't mean we can't have some fun while being mindful about water.
Who hasn't tried the fun quizzes on Buzzfeed – like "How Many US States Have You Visited?" or "How Well Do You Know the Solar System?"

The EPA has joined the quiz frenzy with a WaterSense Quiz, a fun game to test your knowledge and share some facts about water.
The object of the game is to move the water-efficiency hero, aptly named Flo, through water pipes and answer water-efficiency questions while avoiding water-wasting monsters such as Sogosaurus and Drainiac.
It may seem like child's play, but if you try the EPA's new interactive online quiz, you'll be sure to learn a few facts about water usage.  
Click here to play the game (Editor's note – this version may not be mobile friendly), or click here to view a text only version of the quiz. Take your turn and leave us a comment to let us know how you scored!