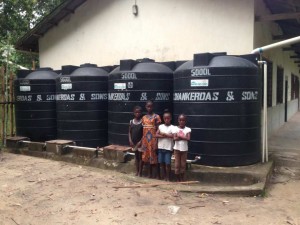 The United Nations Environment Programme (UNEP) mission is to "provide leadership and encourage partnership in caring for the environment by inspiring, informing, and enabling nations and peoples to improve their quality of life without compromising that of future generations."
UNEP was created in 1972 by the United Nations General Assembly for a wide range of environmental concerns and strategies, including Rainwater Harvesting and Utilization. A recent newsletter,  "An Environmentally Sound Approach for Sustainable Urban Water Management: An Introductory Guide for decision makers, cites nations around the world that are currently practicing rainwater collection as a source of water.
Examples are Singapore – with limited land resources and rising demands for water – has done a recent study of urban residential with conclusion of 4% savings from $1.17 per cubic meter to $.96 per cubic meter.  A non potable application at the Changi Airport accounts for a 28 – 30% savings.
Tokyo, Japan rainwater harvesting and utilization is promoted to mitigate water shortages, control floods, and secure water for emergencies.
About 750 private and public buildings in Tokyo have introduced rainwater collection and it is now flourishing in private and public sector.
Berlin, Germany rainwater utilization was introduced in 1998 as part of large scale urban development to control flooding and save city water. Germany is a leader in rainwater collection technology. Many products used in the United States come from Germany.
China has seventeen provinces that have adopted rainwater collection on a large scale with 5.6 million tanks supplying drinking water for 15 million people.
Of course, Africa is experiencing expansion of rainwater collection systems throughout the continent with the help of many NGOs in Kenya, Sierra Leone, Mozambique and many others.
Other countries  such as Australia, Philippines, Indonesia, Canada, and more are recognizing sustainable solutions to the worldwide need for a clean reliable source of water.