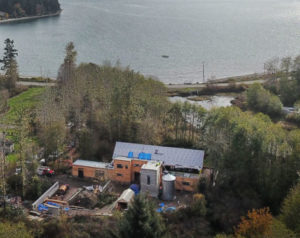 Seattle's RainBank Rainwater Systems would like to thank our customers and partners for their support this past year.
It has been our pleasure to be part of so many quality projects, residential and commercial, throughout the Pacific NorthWest.
Closing this exciting year we have developed new approaches in design and expansion of our services. Always keeping with our progressive approach, we have gained new alliances within the industry so we may better serve our customers. We are proud to have introduced competition in the steel water tank market, not only in Seattle but in eight Western States with our distributorship of Contain Water Systems Inc. 
RainBank Rainwater Systems has become a Living Building Challenge certified designer/ builder of rainwater collection systems with the construction of Heron Hall, the home of Jason McLennan, CEO of the Living Building Challenge, and one of the world's greenest homes.
Our very own Chad Lindsly has volunteered to be a co -ARCSA NW regional representative; which means he will serve on a few ARCSA committees in 2017. 
We look forward to another great year in serving our customers and communities. 
Please don't hesitate to contact us about your rainwater collection needs. Use the form below; we look forward to working with you in 2017.