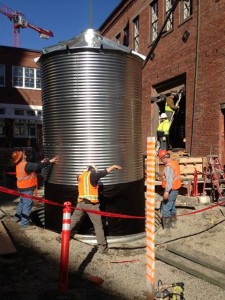 Seattle area consumers were asked to cut water usage another 10% after a 25% voluntary reduction was met last month.
According to the Seattle Times, "If conditions worsen, officials for each water system will decide whether to move to a third stage of shortage planning: requiring customers to cut their water use."  
RainBank customers have benefitted from this past weekend's rainfall by collecting the rain. A RainBank customer who had a 15,000 gallon irrigation system installed 4 years ago just wrote an email to us saying he just ran out of water last week. With a 3,000 sq. ft. roof and a 2″ rainfall over the weekend, this consumer and his family are right back to having 3,738 gallons – just like that.  A new customer in Bellevue with 2,000 sq. ft. of roof just collected his first 2,492 gallons from this weekend's rainfall and is on the way to filling a 12,000 gallon storage tank that will be used for toilet flushing, laundry facility, and irrigation.
Customers on Vashon Island have reported that their tanks were just about empty and now they have enough water for another month. Customers all over the Puget Sound region who have had rainwater collection systems installed by RainBank Rainwater Systems are "singing in the rain".
Whether you want rainwater collection for irrigation, toilet flushing, laundry facility, wash down, or whole household potable use, there is a system design that will fit your needs. RainBank Rainwater Systems has installed more rainwater storage systems than any other in Washington State. With 15 years' experience, RainBank has the expertise to get the job done right. RainBank's personnel are ARCSA accredited, which requires ongoing, continuing education. RainBank is a progressive, full service company offering design, construction, and maintenance of the systems we install.
The outlook for next summer is much the same as this summer. With population growth, failing infrastructure, and more demand on our local water supplies, you can count on shortages again. Wildfires will pose a threat again next summer in Eastern Washington. Being ready to meet these challenges with stored water may just save your home.
RainBank Rainwater Systems builds CorGal steel water tanks in all sizes for residential and commercial applications. RainBank also installs above ground and below ground poly water tanks for potable and non potable use. Some customers have rainwater collection as their sole source of water including the first sole source for a single family residence in Skagit County.
Contact us, or give us a call at 360-298-4719. We will help meet your water storage needs.