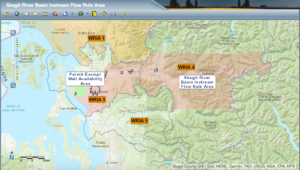 Good news for some Skagit County property owners affected by Washington's Department Of Ecology 2001 In Stream Flow Rules. According to an article in the Skagit Valley Herald, Ecology's Kristin Johnson-Wagner says, "The county now has the authority to allow wells as a legal source of water for the purpose of issuing building permits."
The 56 square mile area within the basin extends from Bayview South to La Conner and as far as Sedro-Woolley. Other areas outside the designated area are still subject to the 2001 ruling with hopes that more areas will be relaxed as well.
According to the state's website, there is an interactive map tool (iMAP) which will help you learn if your property is affected by the Skagit River Instream Flow Rule . Under "Map Categories", choose "Planning and Development" and then choose "Skagit Instream Rule Area".  The area affected by the Instream Flow rule will be shown.