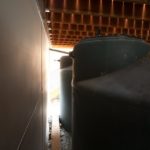 According to an article in The Seattle Times, a West Seattle family "live in Seattle's second Built Green Emerald Star home, a supremely certified, super-sustainable showcase of so many features…"
The home, constructed by net-zero specialists TC Legend Homes, was built to the organization's highest standard by TC Legend Homes and was featured on the 2018 Northwest Green Home Tour this past April.
With a design from RainBank Rainwater Systems, the home also features on-site cisterns that can hold 10,000 gallons of rainwater. According to Built Green program manager Leah Missik, "with a net-zero home plus a 70 percent reduction in water use, you can factor in you're probably going to get money back from Seattle City Light for electricity, and you will save significantly on your water and sewage bills, and the upfront costs are mitigated."
Homeowner Veena Prasad says "There's a sense that going green sounds great, but people feel it's too expensive or too much work. We need that extra push; sometimes that inspiration helps. When people see someone like us can do this — you don't have to be a rich, retired executive; it's something the middle class can aspire to. If we can do our bit to help inspire, we're happy to do that."
As we mentioned in our recent blog post titled Net-Zero Home Wins With RainBank Design, sustainable homes don't necessarily have to cost more, plus can give you a higher return on your investment.