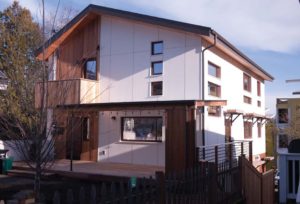 If you think you can't afford to build a sustainable, net-zero home in greater Seattle, we encourage you to read on.
"I still talk to people who don't even know it's possible to build a net-zero home for the same price as a conventional home," says Ted Clifton, designer, builder and owner at TC Legend. Clifton is quoted in an article, posted by Juliet Grable in Green Builder Media, announcing that his company constructed the home that is a recipient of the 10th Annual Green Home of the Year Award.
RainBank is excited to be part of this project, which used RainBank's rainwater collection system design consisting of four 2,500-gallon cisterns located below the first-floor deck, for a total storage capacity of 10,000 gallons. The system supplies all of the water used in the three-story home, including irrigation.
According to the TC Legend website, "When a net-zero-energy home can be built at a cost on par with traditional construction, everyone wins. TC Legend Homes is helping to usher in a new era of green construction in which homeowners don't have to choose between cutting-edge efficiency and staying on budget. Our customers expect to save money owning their home, not spend more."
RainBank Rainwater Systems is the leading, go-to company for green building architects and construction firms that seek modern rainwater collection systems, designs and builds.