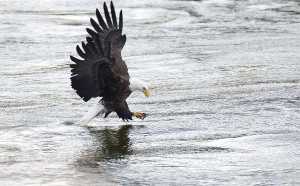 Can we protect the Skagit River Salmon Habitat while allowing single family residential development?
The Washington State Department of Ecology has worked with local government, tribes, utilities, and landowners to develop a sustainable water supply solution to the "in stream flow rates" described in RCW19.27.097.  As such, the Skagit County Building Department issued its first building permit for a single-family residence using rainwater collection as the sole source of water supply. The "water availability" was issued by the Skagit County Health Department recently for a single-family dwelling.
The use of rainwater collection as a source of water for building permits has been a solution that ecology has recommended in the past. Development of single-family dwellings in the river basin was unable to proceed with permitting because of well allocations having exceeded the allowed amounts. This left property owners, local governments, and tribes at odds to an agreeable solution. Of course that brings up the question "what effects does rainwater collection have on the river and it's in stream flow rates."
The Department of Ecology has conducted studies on rainwater collection and its effect on in stream flow rates and has concluded the practice to be beneficial to in stream flow rates.
From the Department of Ecology: Alternative Water Supplies – "We encourage Skagit and Snohomish County to remove any remaining obstacles to property owner's use of rainwater and trucked-in water for property owners who find this option attractive and who wish to build without delay."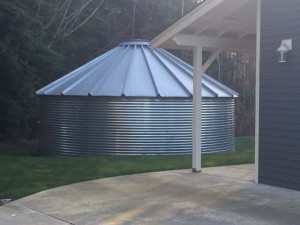 Rainwater is collected and diverted to storage for domestic household use. Then conveyed to filtration and disinfection for potable use resulting in a viable source of safe, clean drinking water. After domestic use, wastewater is directed to a typical septic system and infiltrated on site. Without this process, normal rainfall would simply be considered runoff causing possible erosion or evaporation. Storm water runoff can carry harmful pollutants into bodies of water causing significant damage to salmon habitat. Additionally, evaporation causes very little replenishment to the stream. The use of rainwater collection removes both of these possibilities by diverting the rainfall to storage and, after its use, is infiltrated through an approved septic system, naturally replenishing the stream. Simply put, the water is borrowed for use then returned to its natural flow.
RainBank has been designing and installing rainwater collection systems throughout the Pacific Northwest for 12 years and is pleased to be the installer of the first permitted RWC system in the Skagit River Basin, knowing that the river is protected and landowners have a viable solution for development of their property.
Bald Eagle courtesy of  William H. Majoros (Own work) [CC BY-SA 3.0 (http://creativecommons.org/licenses/by-sa/3.0)], via Wikimedia Commons