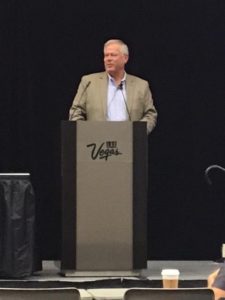 Seattle based RainBank Rainwater Systems seized the opportunity to remain up to date on the latest news, trends, and information on Rainwater Collection at the recent ARCSA (American Rainwater Catchment Systems Association) conference in Las Vegas.
It has been a progressive year for ARCSA with the alignment of Texas Rainwater Catchment Association (TRCA) and American Rainwater Catchment Association (ARCSA). ARCSA became a 501C (6) and (3) nonprofit organization. The new 2016 ARCSA Rainwater Harvesting Manual now includes the ARCSA/ASPE/ ANSI 63 & 78 standards. The inclusion of CANARM, our neighbors to the North, enhances the ARCSA mission statement in promotion of Rainwater Collection. Our continued movement forward with the United Association of Plumbers only strengthens ARCSA as a viable trade organization, giving us a voice in future legislation.
A number of quality speakers gave their time to inform and educate the membership on topics ranging in "Roofing Materials Assessments Updates", by University of Washington's Lisa Rozmyn; "Emerging Regulatory Trends in Rainwater Harvesting",  by Kevin Wong;  "EPA WaterSense Professional Training", by Pamela Berstler; and other topics. The discussion "Nevada Water Conservation", by Doug Bennett should be a model of water conservation throughout the US and Canada.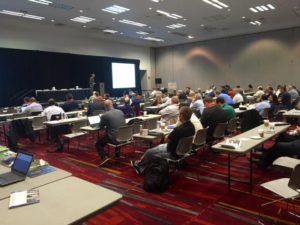 ARCSA has a membership of extraordinary professionals from all facets of water conservation, safety, and industry leaders. Conversation with peers in the industry promotes best practices, new technology, and standards for the rainwater collection professional in order to better serve customers.
RainBank Rainwater Systems is committed to providing customers with the most up to date expertise in design, permitting and construction of potable and non potable rainwater collection systems. We encourage those in the industry to meet these challenges with continued education, evolvement, and knowledge of our industry and its practices. 
The mission of ARCSA Foundation is to promote sustainable rainwater harvesting practices to help solve potable. non potable, stormwater and energy challenges throughout the world.  
RainBank Rainwater Systems president Ken Blair is a lifetime ARCSA member, Accredited Professional, Systems Inspector and Pacific Coast Regional Representative. Contact RainBank's team for a professional, proactive approach to rainwater collection.