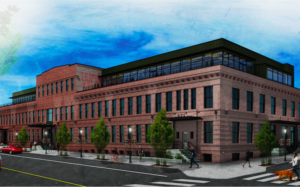 You may have read about the revamped Wonder Building in downtown Spokane, Washington.
According to a recent article, ",,,nearing completion of a $15-million restoration and expansion of the historic Wonder Bread Bakery at 821 West Mallon in Spokane, WA. Formally known as the Spokane-Continental Bakery, the early 1900s-era building is in the final stage of a transformation into Wonder Spokane, a roughly 112,000-square-foot creative office building."
Here is a video of RainBank's inside look at the water detention tanks we're installing in this historic building, expected to open to the public this summer as a 12,000-square-foot retail market, offering food and artisanal products, onsite parking and a dramatic rooftop deck overlooking downtown and Riverfront Park.
The four 6,500 gallon, dome roofed tanks will capture stormwater coming off of the roof and will be infiltrated onsite.
Click here to see more steel water tank projects from RainBank. Don't forget to contact us with questions about your next project.
(Photo credit Connect Media)