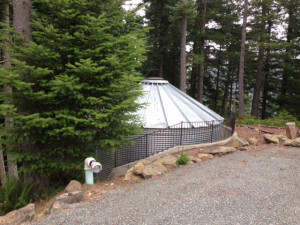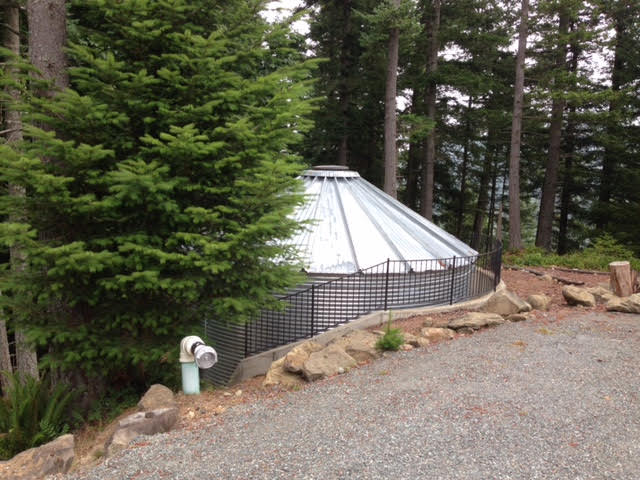 As pervasive drought and aging infrastructure affect our ability to have enough water to meet our household, agricultural and commercial needs, rainwater collection has become a necessary avenue to meet public demand for potable and non-potable water. This post may help you decide among the 5 primary storage vessels when considering a rainwater collection system.
Whether you're looking for a potable, or non-potable system, storage is always a big decision in the design and installation of a rainwater harvesting system. RainBank Rainwater Systems has experience in installations of buried tanks, plastic above ground tanks and steel tanks to meet its customers' storage needs.
Buried tanks have less visual impact than that of above ground tanks. Careful planning and engineering is required for this type of installation. Care must be given to surrounding vegetation and tree root systems. Grading and drainage requirements must be met so impact is reduced.
Steel tanks generally can have increased volume and are usually constructed in more of a rural environment. Steel tanks require an engineered slab and must meet seismic requirements. Many find that the industrial look is aesthetically pleasing.
Plastic tanks are the most cost effective and come in many sizes from 50 gallons to 10,000 gallons. Multiple tanks can be manifolded together. While most are guaranteed for UV protection, shading from the sun will increase longevity of the tank.
Slimline tanks offer a compact install for the urban customer, requiring little area for storage. They can be connected together to increase volume.
Cement vault storage under the dwelling can be achieved with proper engineering. This type of storage allows a large volume with no visual impact or area used up for the cistern other than below the structure itself. Care must be given structurally, as well as moisture and condensation concerns need to addressed.
With more than 15 years designing and installing rainwater collection systems in Washington, Oregon, and other states, RainBank Rainwater Systems has the experience, knowledge, and engineering to get the job done right the first time.
This is a throwback Thursday blog post, originally published under the title Choose Right Type of Storage For Water System at RainBank.info