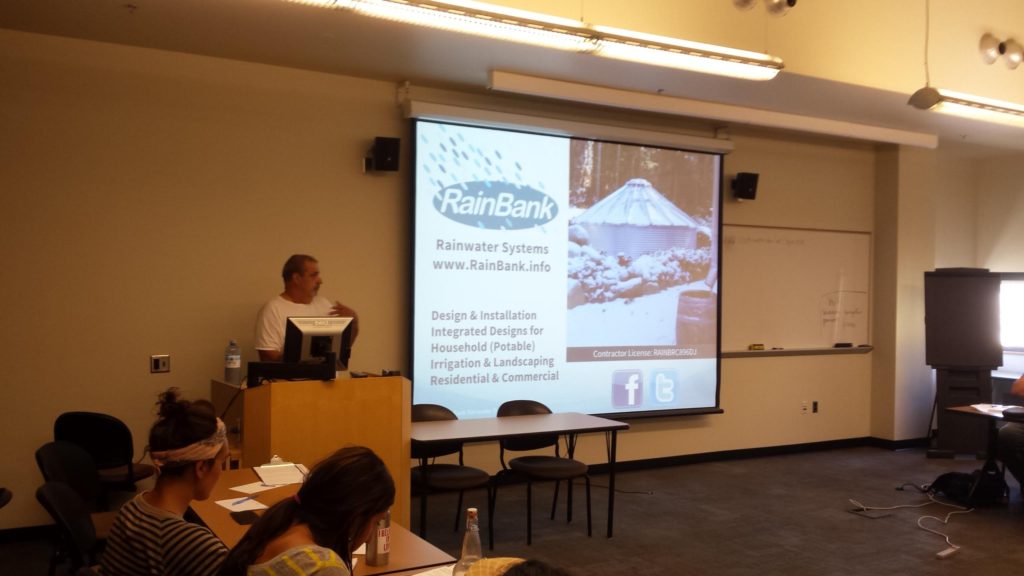 An American Rainwater Catchment Systems Association (ARCSA) lifetime member and ARCSA Northwest Regional Representative, RainBank Rainwater Systems is committed to the education and advancement of best practices of rainwater collection in Washington State. RainBank recently was asked to conduct a seminar at South Seattle Community College for the Green Infrastructure Partnership (GrIP) an active group of landscapers, cistern installers, and Seattle Rainwise program contractors.
GrIP Purpose Statement: 
The Green Infrastructure Partnership is a group of nonprofit, government and community-based organizations working with the public to offer solutions to stormwater pollution. Our participants do this through education, technical assistance and incentive programs. Our purpose is to increase networking, collaborating and coordinating opportunities for public engagement. Our goal is to bolster voluntary adoption of green infrastructure as a viable, affordable and effective solution to reduce stormwater runoff polluting Puget Sound. 
The two hour class included design considerations, implementation, components, and maintenance of systems as well as an introduction to new 2016 code and storm water requirements. An active, open discussion with Seattle community attendees followed the presentation with a question and answer period from the more than 30 participants. An ARCSA Accreditation Workshop in the near future was enthusiastically supported by the audience. RainBank will follow up with scheduling and registration information . ARCSA is the leader in education of rainwater collection in the US and Canada with most authorities recognizing ARCSA Accredited Professionals as experts in the field.  
RainBank Rainwater Systems would like to thank all participants of this latest rainwater collection systems seminar and encourage all participants and other interested parties to help bring the next ARCSA Accredited Professional Work shop to Seattle.