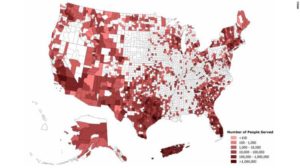 You finally planted that garden you've always wanted and your first crop has made it to your family's table. Now you learn that your public water system is contaminated – and has been for years. Your beautiful tomatoes, green beans and peppers have been cultivated with contaminated water.
When we read that thousands of public water systems in the US, affecting millions of people, have unhealthy levels of lead and copper, we should be concerned about the laws in place that are supposed to protect and preserve the health and well-being of our nation's citizens.
According to CNN, "More than 5,300 water systems in America are in violation of the EPA's lead and copper rule, a federal regulation in place to safeguard America's drinking water from its aging infrastructure."
The story goes on to report, "Violations include failure to properly test water for lead, failure to report contamination to residents, and failure to treat water properly to avoid lead contamination. Yet, states took action in 817 cases; the EPA took action in just 88 cases, according to NRDC's report.
What's worse, the report reveals that the EPA is also aware that many utilities "game the system," using flawed or questionable testing methods in order to avoid detecting high levels of lead. 
That means there could be many more communities violating the laws, exposing residents to dangerous levels of lead. And the public has no idea."
The article reports that 18 million people currently reside in areas with water systems that don't meet legal standards AND the EPA is not addressing these violations.
Is your water contaminated?