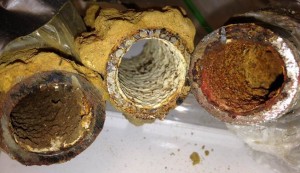 We at RainBank have been writing about declining water quality in public systems in the United States since we started sharing information in 2014. Aging infrastructure is an issue that has been known for quite a long time, but only recently has been brought to greater awareness because of the Flint lead poisoning crisis. Older public water systems are typically comprised of galvanized pipe and can be 70 or more years old. This issue of contaminated water is not new, but has been building over many years and is becoming more widely known because more testing is being performed.
A recent article in USA Today, Beyond Flint: Excessive lead levels found in almost 2,000 water systems across all 50 states, the jarring results of an independent study found that of water systems tested, lead levels beyond EPA standards were found. Overall, these systems provide water to 6 million people, a percentage of which supply drinking water to facilities where children gather or reside – and where some of the highest levels were found. Additionally, some didn't even notify the public.
Coast to coast, water quality awareness is being raised and tests are being performed. At NJ.com, it was reported that a hospital in Morristown, NJ recently learned of rising lead levels in its water supply, reporting, "Twenty-eight out of 39 samples tested by the hospital on Feb. 22 were above the federal Environmental Protection Agency's action limit of 15 parts per billion…" Also in Newark, NJ, the largest city in the state, the school system is testing students for lead because, not only was it discovered the levels were high, but it has been known for years – and not reported. (Read more from The NY Times Newark Schools to Test Pupils for Lead as Officials Cite Longstanding Problem)
The EPA and the Centers for Disease Control and Prevention (CDC) agree that there is no known safe level of lead in a child's blood. Lead is harmful to health, especially for children.
And it's not just lead. In the Puget Sound, drugs were found in salmon from fouled wastewater. "Prozac, Advil, Benadryl, Lipitor, even cocaine. Those drugs and dozens of others are showing up in the tissues of juvenile chinook, researchers have found, thanks to tainted wastewater discharge." Additionally, common over the counter pharmaceuticals like Flonase, Aleve and Tylenol were present, along with Paxil, Valium and Zoloft, Tagamet, OxyContin and Darvon. Nicotine and caffeine, fungicides, antiseptics and anticoagulants and Cipro and other antibiotics – were also included in this toxic mix. According to the Seattle Times, "the findings are of concern because most of the chemicals detected are not monitored or regulated in wastewater, and there is little or no established science on the environmental toxicity for the vast majority of the compounds detected."
Of course, we believe the best solution is rainwater collection. Water harvested from roof runoff is relatively clean and can be used to bypass or supplement city or well water. It has commercial and residential applications that run from drinking to irrigation, toilet flushing, vehicle wash down  and more. Contact us for more information.