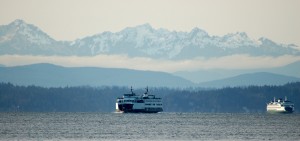 With population growth in the Seattle and surrounding area, the effects of this growth, demand, and aging infrastructure will impact our water and sewer systems economically.
Estimates of costs to upgrade and expand existing systems over the next 20 years are 6.5 billion dollars. According to Luna Leopold, Cascadia Green Building Council, the new "Green Infrastructure Initiative" promotes low- impact development and natural storm water systems.
"It's our hope that this study, combined with our extensive outreach and advocacy efforts, will spur a broad movement toward more ecological sound water practices and procedures. Greater support for smaller scale, decentralized systems is crucial if we are serious about addressing the negative impacts related to how we manage water and waste." Explains Jason McLennan CEO of Cascadia Building Council western region.
Click here to read more about Healthy, Resilient Water Systems in the Puget Sound.
Photo: By Grace from Seattle, USA (Puget Sound ferriesUploaded by X-Weinzar) [CC-BY-2.0], via Wikimedia Commons