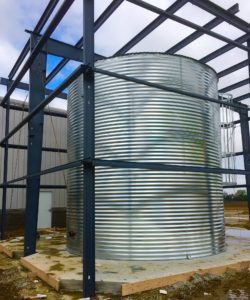 Seattle based RainBank Rainwater Systems and Contain Water Systems Inc. have brought back affordability and expertise to the steel water tank market in the Seattle area.
No matter if your project is commercial or residential, rainwater harvesting, or fire suppression, costs are always a concern for any project. Many dealers are third or even fourth party in steel water tank sales, of course each adding their markup. Being a Contain Systems Inc. distributor, there is no middleman – which boosts affordability. We sell Contain Tanks to dealers and the general public. We install what we sell, no subcontractors, and we stand behind our product line. Contain Water Systems Inc. water tanks carry an unmatched 20-year warranty if installed by RainBank Rainwater Systems or a certified installer.
RainBank's president has over 15 years' experience in commercial and residential designs, installations, and sales of rainwater collection systems and is an ARCSA lifetime member, ARCSA Northwest Regional Representative, ARCSA Accredited Professional, and ARCSA Inspector Specialist. RainBank has put together an experienced team to provide customers with an integrated, progressive approach to sustainability, premium water systems. Having in house engineering, a licensed plumber, and experienced installers takes the guess work out of a project for the architect, engineer, contractor and owner.
Contact us about your steel tank project now: