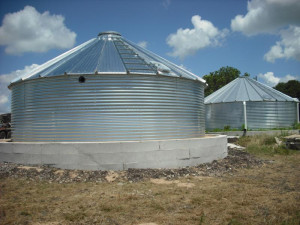 RainBank Rainwater Systems has more than 15 years' experience in steel water storage tank construction and is now offering an alternative in the corrugated steel water tank market. RainBank Rainwater Systems is the Northwest regional distributor of Contain Water Tanks, offering quality at competitive pricing.
About Contain Water Systems Inc.
Contain Water Systems Inc. Water Series tanks & accessories are designed and engineered for several applications. Rainwater harvesting, stormwater management, fire protection, irrigation, agricultural, mining, potable water and many other applications. Contain Water tanks are manufactured from high quality corrugated, hot dipped galvanized steel for superior strength and reliability.
Contain Water Systems Inc. Water Series Tanks include a full scale structural engineering package with each estimation designed to the seismic area in your project location throughout the USA & Canada. Contain Water Tanks are engineered to include 165 MPH wind speeds, durable snow loads and seismic forces at specific project locations. Contain Water Systems Inc. water series tanks & accessories are backed with a 20-year warranty! Extensive engineering to national design codes make the Contain Water Tank extremely adaptable to any climate, landscape type, or building facility.
Contain Water Tanks & accessories are packaged efficiently as well as easily transported into hard to reach locations or building facility. Each tank is custom built, unique to the customer's needs and assembled at the project site by qualified Contain Water Systems Inc. certified installers. Contain Water Systems water tanks range from 6 ft. to 180 ft. in diameter and up to 400 feet in diameter as an open top tank.
Click here for a link that carries specification, sizes, and more information on Contain Water tanks.
Thank you for considering RainBank Rainwater Systems and Contain Water Systems Inc. for your next project.
Contact us for more information, using the form below: