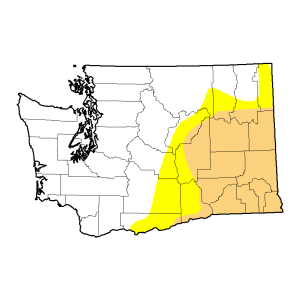 Here's some good news for Washington state drought watchers – the Department of Ecology has lifted the drought emergency and the governor's Executive Water Emergency Committee recommends the drought declaration not be continued for this year.
More Good News
Heavy rains and snow have pulled Western Washington completely out of the woods, with the eastern portion of the state quickly following suit. The  U.S. Drought Monitor still shows eastern Washington in the dry to moderate zone, but compared with the report from just three months ago, the turnaround is sizable.
Since much of Washington's water supply comes from snowpack accumulations, and which are more than 100 percent of normal for this time of year, current conditions just don't meet the criteria required for the declaration of a drought emergency.
Weather forecasts for through March are for warmer, drier conditions as a result of El Niño, so Washington's Water Supply Advisory Committee will continue to monitor water supply.