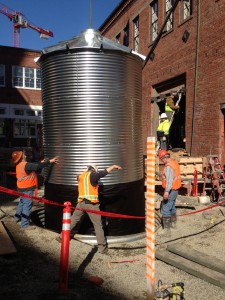 With 15 years of experience in the rainwater collection industry, RainBank has assembled a photo gallery of some of the steel tank installations we've completed .
With many builds located in the Seattle area, RainBank also has several projects located in the Pacific Northwest, like Portland, OR, Vashon Island and Lopez Island, in 2014, RainBank also directed a steel tank build in Galveston, Texas for the Sea Scouts.
Please click here to visit the steel tank photo gallery and stay tuned for more photos and videos to come.
Things you should know about RainBank Rainwater Systems:
Ken Blair (President) holds the ARCSA AP and Inspector Specialist accreditations and is a Lifetime Member. He is also the ARCSA northwest regional representative
RainBank's Management Team covers a wide range of expertise, including engineering and plumbing
RainBank is a full service rainwater systems company – design, installation and consultation
RainBank designs systems for potable (whole house use or supplemental) and non-potable for irrigation, toilet flushing and laundry.
Contact us now for more information about how to add rainwater harvesting to your residential or commercial project.