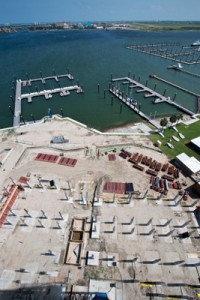 Seattle based RainBank Rainwater Collection Systems is heading to Galveston, Texas to build 4- large water tanks for the Sea Scouts of America. This $25 million,  8 acre compound will be seeking the highest LEED rating of Platinum.
The rainwater collected will be used for irrigation provided by the 4 – 24,000 gallon, 12′ diameter by 32′ tall cisterns. There will be stormwater dry wells that can be used for the irrigation demands if the cisterns should run dry.
RainBank Rainwater Collection Systems is proud to be part of this worthwhile, state of the art complex and congratulates the Sea Scouts in their efforts to build green.