Seattle based RainBank Rainwater Systems LLC is the Northwest distributor of Contain Water Tanks, serving Washington State, Oregon and Idaho.

Contain Water Systems Inc. Water Series tanks & accessories are designed and engineered for several applications. Rainwater harvesting, stormwater management, fire protection, irrigation, agricultural, mining, potable water and many other applications. Contain Water tanks are manufactured from high quality corrugated, hot dipped galvanized steel for superior strength and reliability.
Contain Water Systems Inc. Water Series Tanks include a full scale structural engineering package with each estimation designed to the seismic area in your project location throughout the USA & Canada. Contain Water Tanks are engineered to include 165 MPH wind speeds, durable snow loads and seismic forces at specific project locations. Contain Water Systems Inc. water series tanks & accessories are backed with a 20-year warranty! Extensive engineering to national design codes make the Contain Water Tank extremely adaptable to any climate, landscape type, or building facility.
Contain Water Tanks & accessories are packaged efficiently as well as easily transported into hard to reach locations or building facility. Each tank is custom built, unique to the customer's needs and assembled at the project site by qualified Contain Water Systems Inc. certified installers. Contain Water Systems water tanks range from 6 ft. to 180 ft. in diameter and up to 400 feet in diameter as an open top tank.
Most Popular Tank Applications
Fire Protection Water Storage Tanks
Bulk Storage Tanks
Wastewater Tanks
Stormwater Management
Treatment Tanks
Mining, Minerals & Quarry Bins
Clarifier Tanks
Irrigation Water Tanks
Industrial Liquid Storage & Processing Tanks
Aquaculture Fish Brooding Tanks
Rain Cisterns & Tanks
Thermal Storage & Water Cooling Tanks
Brewery & Winery Tanks
Greywater Tanks
Agriculture Water Storage Tanks
Sand Filter Tanks
Potable Water Storage Tanks
Enclosures, Canopies, Houses, Cabins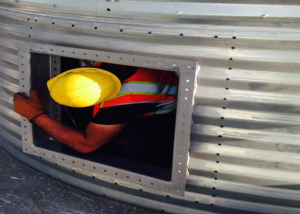 Contain Water Systems Inc. is the only manufacturer that carries a 20-year warranty and offers a through the liner, grade level access. 
 RainBank Rainwater Systems LLC has 15 years of steel water storage tank construction in Washington State and is now offering an alternative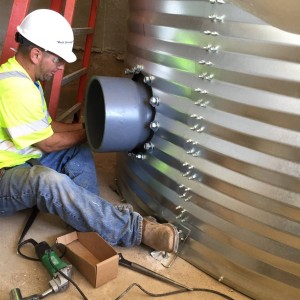 in the corrugated steel water tank market in Washington, Oregon, and Idaho. At RainBank Rainwater Systems LLC and Contain Water Systems Inc. we service what we sell and hold a strong dedication to commitment and quality. Contact our team to see how we can assist your project.
Use the form below: