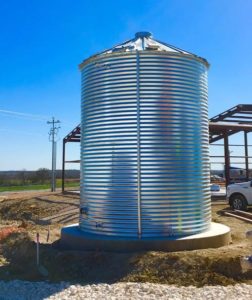 Seattle based RainBank Rainwater Systems, a Contain Water Systems Inc. distributor, is actively seeking bid requests for steel water tank sales and construction throughout the western region. Competitive pricing, 20 year warranty, and 15 years of experience make RainBank/Contain a smart choice for General Contractors whether for rainwater collection or fire suppression. 
Contain Water Systems steel water storage tanks are ideal for any water storage applications where the intent is to store water for commercial or residential use. Structural and seismic engineering and full installation are available in Seattle and throughout the United States. Tank packages are delivered to your site where an experienced RainBank Rainwater Systems team will assemble, test, and certify that the tank has been built to Contain Water Systems' quality standards. As a Contain Water Systems distributor, there is no middle man, which boosts affordability.
We install what we sell, NO subcontractors with inexperienced installers. We stand behind our product and installation with an unmatched 20 year warranty. Safety is always a priority with RainBank Rainwater Systems and Contain Water Systems has met that challenge with the only ground level, through the liner access panel, eliminating confined spaced entry during construction and maintenance or inspections. Contain Water Systems tanks & accessories are designed and engineered for all water storage needs including rainwater collection, stormwater management, fire protection, irrigation, agriculture, and mining. 
Click here for a link that carries specification, sizes, and more information on Contain Water tanks.