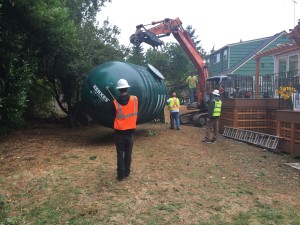 More urban customers are inquiring about underground storage for rainwater catchment systems. With limited space in a typical city backyard and the desire to keep what little space there is unobstructed by large cisterns, buried tanks are the solution.
The decision to choose underground storage comes with added costs.
Below grade cisterns require considerations and costs that are not typical with above ground storage. Structural requirements, added excavation, and drainage are factors in costs. The costs of engineering and materials add to the manufacturing costs of below grade cisterns. Added labor, such as excavation, more than likely will include the need to export soil off the site and the import of drain rock. Buried tanks require cement hold-downs and proper drainage of tank placement to eliminate possible floatation of the tank when water levels in the tank are low and ground water levels are high. Below grade cisterns can be 2 to 2.5 times more expensive than above ground to design, purchase and install properly.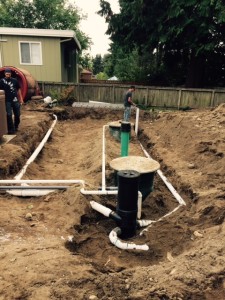 Experience in below grade cistern design and installation is the key factor in the success and costs of the project. Understanding the added costs before hand will help ease sticker shock.