How do you install tanks with no visual impact?
With more than ten years of experience in rainwater collection system designs and tank installs, RainBank loves a good challenge. The issue at hand was to have the storage systems leave no visual impact for a residence with broad, sweeping landscaping.  The solution: buried tanks.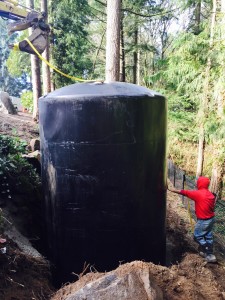 This 5,000 gallon tank needed to be placed on its dug pad 10 feet below the driveway and down an existing rockery. RainBank used a mini excavator to control lowering the tank over the edge and into it's resting place. With a little landscaping at the top of the rockery, you won't even see the buried tank.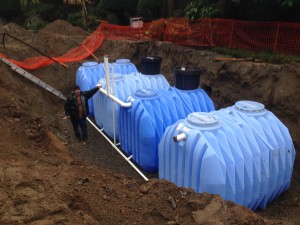 The rest of the storage for this potable system consists of four – 1,800 gallon buried tanks in the back yard from which an old swimming pool was excavated and the tanks put in its place.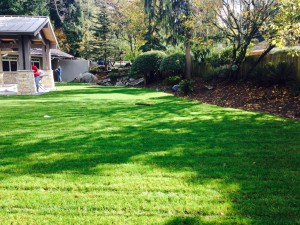 After the tanks were installed, they were back filled and the yard was restored to a nice lawn area with no tanks visible.