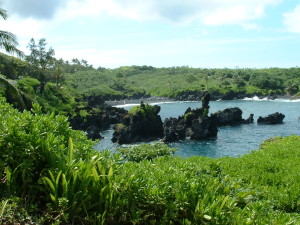 As some of us living in colder climes hunker down for the cold weather, now is a good time to share an article from Maui Now about green living with rainwater catchment systems.
The article effectively and simply illuminates the benefits of collecting rainwater for either landscaping or drinking water, outlining the components and why each is important for a system that will either supplement or replace city water.
Some folks may find (at least on Maui) that the property they're interested in purchasing is off grid, with no city water source available. Others want to supplement city water to save money and reduce demand on city infrastructure, decelerating the onset of potential future water shortages.
According to the article, 'With a rainwater catchment system, you will be able to capture rainwater, divert it to a storage area, save it in a safe and clean place for later use, and then create a system for water distribution."
RainBank is an experienced rainwater collection system design firm and consults on systems for residential and commercial use. RainBank designs potable and non-potable systems to be used for irrigation, laundry, toilet and wash down facilities. RainBank follows its designs through the permitting process; clients have an advocate to navigate the confusing maze of government entities and regulations. RainBank president Ken Blair is ARCSA AP (Accredited Professional) and IS (Inspector Specialist), both of which require continuing education for certification. RainBank also serves as ARCSA's Pacific Coastal Regional Representative.