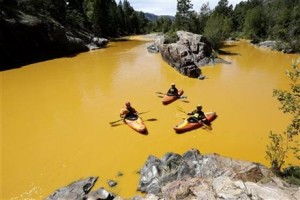 This week, the Environmental Protection Agency accidentally dumped 1 million gallons of heavy metals from an inactive mine into the Cement Creek in Colorado. A tributary of the Animas River, the sludge, which turned the water an eerie orange color, could be seen snaking toward New Mexico on Wednesday.
The Denver Post reports EPA workers caused the spill while they were investigating acid discharge from Gold King and three other mines in the area. The paper also quotes Dave Ostrander, the EPA's regional director of emergency preparedness assessment and response, as saying, "We are very sorry for what happened. This is a huge tragedy. It's hard being on the other side of this. Typically we respond to emergencies; we don't cause them. … It's something we sincerely regret."
According to the NY Times, "E.P.A. officials confirmed the leak contained heavy metals, including lead and arsenic, but said it was too early to know whether there was a health risk to humans or animals. The river was closed for recreational and other uses, but officials said water sources should be safe."
Now this writer is no expert, but it's difficult to imagine that wastewater in the river will not affect the river's eco-system. Further questions arise as to how will this tragedy impact the plants, fish and wildlife that depend on the river to survive?
The EPA is evaluating the human health risk, but it is reported that at least two of the heavy metals in this spill can be "lethal for humans in long-term exposure. Arsenic at high levels can cause blindness, paralysis and cancer. Lead poisoning can create muscle and vision problems for adults, harm development in fetuses and lead to kidney disease, developmental problems and sometimes death in children".
This is serious stuff. Residents along the river are being asked to "minimize water usage".  At least seven water utilities shut down their intake valves ahead of the plume to keep it out of their systems and farmers also closed the gates on their irrigation ditches to protect crops.
With news of toxic algae stretching from California to Alaska, fracking chemicals contaminating wells in Pennsylvania and now heavy metals dumped into the Animas in Colorado, just how safe are our water supplies?