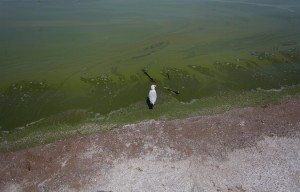 The recent news about Toledo's water supply being affected by a toxic algae bloom, disturbing  over one half million customers, has us asking once again – how safe are our water supplies?
It wasn't too many months ago that the coal spill in the West Virginia river had residents scrambling for an answer.  Aging infrastructure, with its inherent problems of failures causing water boiling advisories, are becoming more common. The use of fertilizers and insecticides are migrating into our water supplies. Industrial urbanization is leaching toxins into our waterways and wetlands, eventually ending up in aquifers, lakes, and reservoirs.
The National Resource Defense Council has asked for the Federal government to step in and find a solution to this problem.  However, the Fertilizer Institute is part of  a coalition of industry and agricultural interests that are opposing Federal efforts to restore some coverage of the Clean Water Act.
Centralized water is being threatened by many facets. A decentralized water system may be the answer to a safe drinking water supply for us all.