RainBank's Ken Blair has been busy attending the American Rainwater Catchment Systems Association (ARCSA) conference in Phoenix, AZ.  Yesterday, he delivered his own seminar on Urban Rainwater Case Studies.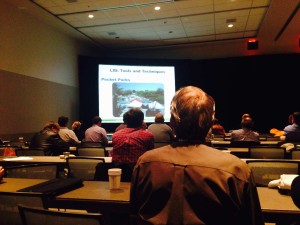 To further his own knowledge of the rainwater harvesting industry, Ken sat in on several other professional presentations: ARCSA's involvement in community education, net zero water development concepts, a green plumbing technical overview, low impact development, and then gave his own presentation on urban rainwater case studies and its relation to storm water runoff.
Today, Ken will attend an Inspection Specialist workshop. This class will advance Ken's accredited professional endorsement to Inspection Specialist. Ken is also pleased to announce he was voted in as northwest regional representative of ARCSA and will be an advisor to the education committee.
RainBank Rainwater Systems is proud to be part of this fine rainwater harvesting organization and is committed to help lead the way in its advancement of education and promotion of the rainwater collection industry.
Have you signed the petition yet?