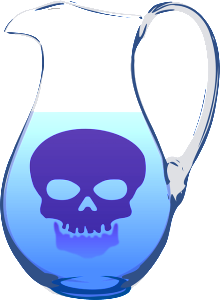 From Washington state to New York, from Michigan to Louisiana – if you think the Flint poisoned water crisis doesn't affect you and your family, think again.
We've been writing about the issues surrounding our aging infrastructure since starting this blog two years ago. Our post from June 2014 outlines how much it would cost to upgrade our aging public water systems.
A recent article in USA Today, Flint Water Crisis Could Cost U.S. $300 Billion, explores the broader financial consequences to Flint's drinking water crisis, which may compel regulators and water suppliers to spend more than a quarter-trillion dollars on infrastructure upgrades sooner than originally expected.
Fitch Ratings Inc., one of the three nationally recognized statistical rating organizations designated by the U.S. Securities and Exchange Commission is quoted as saying, "We believe the capital costs to replace these lines could exceed $275 billion". According to the article, "more than 6 million lead service lines exist across the country, according to estimates cited by Fitch. Many of these are located in the Northeast, Midwest and older urban areas."
More from Fitch: if costs are spread over a sufficient amount of time, they could be manageable. But, if those changes need to be executed sooner, it could cause financial stress for some water utilities.
Add to these costs, lawsuits filed in the wake of the Flint water crisis, we can reasonably expect increases to be passed on to consumers to cover upgrades and damages.
Lawsuits have already been filed in local, state and federal courts on behalf of Flint residents who drank lead-tainted water for nearly two years. The complaints name a long list of state and local agencies and officials, from Gov. Rick Snyder to Flint city employees, with charges ranging from civil to criminal, and including pipe replacement as well as long-term medical monitoring and health care.
All of this could accelerate changes to EPA drinking water regulations as they relate to lead. According to Fitch, "In light of these lawsuits and the heightened public focus on possible lead contamination, Fitch expects any proposed rule revisions will likely move the industry toward removing all lead service lines," the rating agency said Friday. "Reprioritizing and accelerating lead pipe replacement would add significant additional capital needs to the sector and could compete with other critical infrastructure projects, including developing sufficient long-term water supplies and replacing aging infrastructure components other than lead lines."
Flint is just one city in our large nation. Think about how this could affect your family – it is a health and financial issue for all of us to get behind. It can happen anywhere and likely already is.