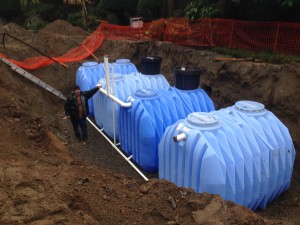 In October 2009 Washington State revised its water rights laws to allow rainwater collection. King County (Seattle) has adopted rainwater collection for potable use in single-family dwellings, as well.
Seattle and King County encourage the practice of rainwater collection. King County Health Department / Plumbing Division reviews designs, approves designs for permitting, and inspects installations of RWC for potable and non-potable use. Only an engineer, licensed in the State of WA with experience in RWC or an American Rainwater Catchment Systems Association (ARCSA) accredited professional can design systems for potable usage. Currently potable use is only allowed for single-family residences, not public. Non-potable use, such as toilet facilities, wash down, irrigation, and laundry is allowed for public use.
A simple irrigation system not connected to household water usually does not require a permit. If a rainwater collection system is connected to household plumbing a "reverse pressure back-flow assembly" (RPBA) is required to be installed on the city water line entering the dwelling or building and requires a yearly inspection by a licensed plumber that carries a current endorsement. The RBPA can be waived if an "air gap" is installed so there is no cross connection between city water and the collected rainwater.
There is current code for rainwater collection that must be met for permitting and installation. Green Stormwater Infrastructure (GSI) was enacted to control stormwater runoff and mandates that all new construction, commercial and residential have a stormwater management plan in their design. Infiltration or use of runoff is mandated by City of Seattle, King County and State.
Seattle Public Utilities has initiated a rebate program called Rainwise a few years ago, which encourages infiltration on site and is seeing some success in stormwater with small residential rain gardens. Governor Inslee has requested a small amount of money for education on conservation from the emergency drought relief fund.
For more information, visit:
www.seattle.gov/DPD/Publications/CAM/CAM520.pdf