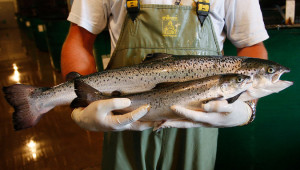 The US Food and Drug Administration recently gave the green light to genetically modified salmon, deeming it safe for consumption. This landmark decision makes salmon the first genetically altered animal to be approved for US groceries and, ultimately, our homes. This strain of salmon's DNA has been altered to make it grow faster, creating a market sized end product that also requires less feed to reach maturity.
According to the Wall Street Journal, consumers may be hard pressed to find the GMO salmon in groceries, as many have pledged to not carry any GMO foods.
The article further states: "Andrew Kimbrell, the Center for Food Safety's executive director, said that if the modified salmon find their way into open waters, their rapid growth could allow them to outcompete wild Atlantic salmon and become preferred mates, putting the wild species at risk of being replaced with AquaBounty's version. 'If even a small amount would escape, that would threaten native populations,' said Mr. Kimbrell, whose group plans to sue in federal court by the end of the year."
Will You Know You're Buying Genetically Modified Salmon?
According to a NY Times article, the FDA reports that the fish would not have to be labeled as genetically engineered, "however, it issued draft guidance as to wording that companies could use to voluntarily label the salmon as genetically engineered or to label other salmon as not genetically engineered."
We'd love to hear your thoughts about how we can spend more time and energy preserving our natural resources, or, on the other hand, share your comments if you think the future looks brighter with even more genetically modified foods for our diets.