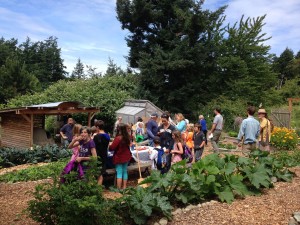 According to the National Farm to School Network, "Farm to school enriches the connection communities have with fresh, healthy food and local food producers by changing food purchasing and education practices at schools and preschools."
We wrote about this last year when Orcas Island School embraced the concept:
RainBank Rainwater Systems is very pleased to learn that the Farm to Cafeteria program is flourishing at Orcas Island School, thanks, in part to the Orcas Island Education Foundation.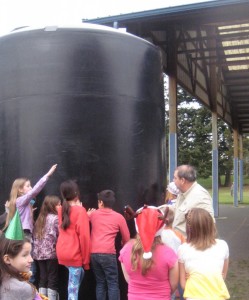 RainBank was asked to construct a system and then teach the children about rainwater collection and water conservation. The water is collected from the school's roof and stored in a 5,000-gallon cistern to be used for irrigation of a vegetable garden. The vegetables are used as part of the school lunch program and to teach the students about sustainability.
"Farm to school empowers children and their families to make informed food choices while strengthening the local economy and contributing to vibrant communities. NFSN provides vision, leadership and support at the state, regional and national levels to connect and expand the farm to school movement, which has grown from a handful of schools in the late 1990s to approximately 40,000 schools in all 50 states as of 2012.  Click to learn more about farm to school nationwide.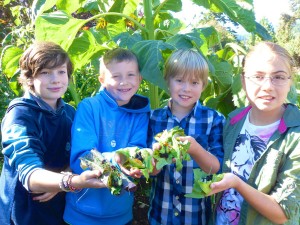 The Orcas Island School garden is flourishing and community involvement is extraordinary. We are proud to part of this exceptional project and hope other communities will offer similar programs. Sustainability is the future for these young persons.
We all benefit when our children have the opportunity to learn about, but also have access to healthy, local foods.