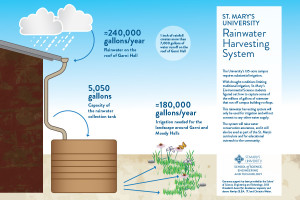 St. Mary's University in San Antonio, Tx has added a rainwater collection system to its campus to assist with irrigation.
A 5,050-gallon tank will collect some of approximately 240,000 gallons of rain that fall onto that area of the campus annually.  Using a small pump, the collected rainwater will be used for landscaping irrigation in that section.
An idea fueled by students, the project was pitched to  the administration.  It is the first of its kind on campus, and will become the centerpiece of St. Mary's sustainability efforts. Similar systems could be considered elsewhere on campus.
To read more, please visit the university's website.