If you think kids are only into video games, try teaching them about something they really care about – like rainwater harvesting and conservation.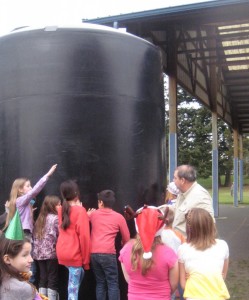 RainBank's Ken Blair and Craig Sanders from Island Irrigation recently spent an entire day with the students from Orcas Island School K through 6th grade, teaching rainwater collection and conservation. "I don't know who had more fun – the children or myself. The enthusiasm of the kids kept the pace of the class going from bell to bell", said Ken.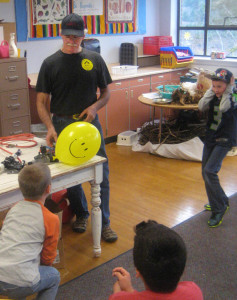 Ken taught a little history of rainwater collection, some science on the natural cycle of rain and a bit of math so the children could calculate how much rainwater they could collect from their home roofs. Each class will make rain gauges so they can monitor how much rain is available to fill their storage tank that RainBank installed last year for their garden-to-lunch program. "I think the children took away the need for them to conserve our resources and I am confident that they will go home and teach their parents. It was a great bunch of kids and I look forward to doing more of this", adds Ken.
Read more about Orcas Island students and their lessons on rainwater collection here.
If you would like for your Seattle area school to participate in this type of learning, complete the form below to send a request to Ken Blair of RainBank Rainwater Catchment Systems.