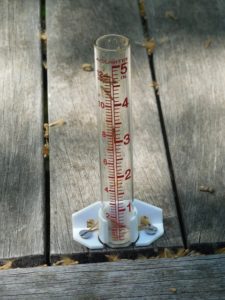 When you calculate area rainfall – measured annually, monthly and daily, plus factor in how the water will be used in the future, you can determine how much is storage is necessary to meet your needs.
Being aware of current water use is helpful with knowing how to size a system, but don't neglect to consider potential future demands. If you're planning a family, entertaining, have a growing business, or may sell the dwelling and property, you want to account for those scenarios when you calculate storage. At best, the system should be professionally designed and built to meet future demands as well. Here are more reasons to consider future demands when building a rainwater collection system:
Possible drought or longer periods of dry season should also be considered when designing or building a system. Incorporating back up water supplies into a system can be as easy as hauled water, or drawing from a well, community or city water system and should be an available option for those times. Residential rainwater systems in the city are often limited in space for storage, leaving the volume of the cisterns inadequate for year round use. Having the ability to switch to this alternate source can be a necessity in design. However, a more rural environment lends itself to larger storage capacities.
Water demand is an important part of design and the American Water Works Association (AWWA) has conducted a study of various fixtures and appliances. Knowing these demands will help estimate usage and assist the designer to adapt the design accordingly. Single flush toilets use 1.28 gal/ flush, dual flush toilets 1.0 gal/ flush for liquids and 1.28 gal/ flush for solid. Average use is 6 flushes per person, per day. Low use fixtures such as shower heads, faucets, cloths washer (front loading) are recommended for the overall design of the house and can be found in publications from manufacturers.
Outdoor demand should be limited as much as possible. Drought tolerant plantings, drip irrigation, and general conservation will help limit outdoor usage.
For specific irrigation needs, Evapotranspiration (ET) is the measurement of amount of water in inches that is needed to grow plants. All plants have a different watering requirements, also being affected by temperature, wind, humidity, and sunlight. A state climatologist can be contacted to attain an ET standard reference for your area. Careful consideration of outdoor use must be given if irrigation is part of the RWC design. An average city lot can use as much as 1,800 gallons of water for watering a lawn.
In order to get the best performance from your rainwater collection system, indoor and outdoor demands must be carefully calculated using best storage capacities, surplus and defect, level of storage, daily, monthly, and annual use/demand for the entire year. Simply calculating the average annual rainfall amounts will not produce the end goal of a well designed RWC system. It is best to determine average potential of collection and use. Determine average daily, monthly, and annual rainfall amounts. Calculate collection area, and determine runoff. Identify highs and lows of rainfall amounts and demands. Determine those months of low amounts of rainfall along with the carryovers from months prior. Certainly, identify those months of zero rainfall.
When you know how you currently and potentially will consume collected rainwater, plus install water efficient fixtures and by employing best conservation practices, you will have enough during periods of high demand or drought, when you might have to cut back or switch to an alternate source. If you plan for this during the design process, you will have a system that works for you far into the future.
This article was originally published under the title Estimating Water Usage for a Rainwater Collection System at RainBank.info