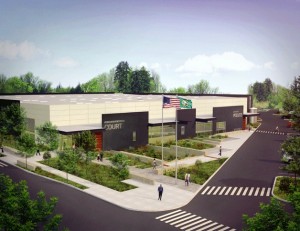 It's hard to believe that it's been two years since we completed the project outlined below. We are thrilled to say that interest in rainwater collection has skyrocketed, bringing it from niche to mainstream. Here's a throwback Thursday post outlining what happened in May, 2014:
RainBank Rainwater Collection Systems is pleased to announce completion of two 5,300-gallon rainwater collection tanks for the new Kirkland Public Safety Building. Both tanks will collect water from a segment of the building's roof and divert to irrigation for new plantings. The Safety building was a former Costco building remodeled for the city of Kirkland to be used as the new courthouse, police station and jail.
New landscaping will be watered automatically by the rain tanks via a computerized controller which will regulate how long and what times watering will take place. With 10,600 gallons of storage and a roof collection area of approximately 20,000 sq. ft., even a small amount of rain in the summer should supply the new plantings with rainwater.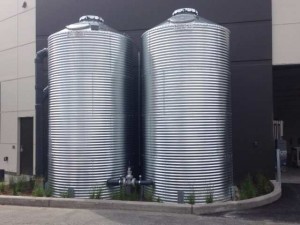 Infiltration of the soil during watering will reduce the building's stormwater runoff and save money by not using city water.
RainBank Rainwater Collection Systems is proud to be part of this and other commercial projects making the Seattle area a better place to live.
RainBank Systems are built with the highest quality components and installed by our trained staff. Don't forget to ask us about our steel water tanks – and the industry unmatched 20-year warranty.
We will continue to highlight and share our projects and information with you. We look forward to installing your system in the near future.
This article was originally published under the title Rainwater Harvesting Cuts Costs & Reduces Stormwater Runoff at RainBank.info