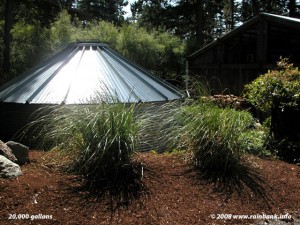 A study by the American Water Works Association to determine end use of water in 100 single family homes was conducted back in 1999. Even though the study is dated, it is a good indicator of average single family usage with regard to rainwater collection.
The study finds that 27.7 % total household use of water is used in toilet flushing and 20.9% total household water use is by laundry facility. These uses can be improved by low usage fixtures such as dual flush toilets and front load washers, however, they do indicate an average of 48.6 % water consumption by these two fixtures.
By installing a rainwater collection system for this usage, homeowners can realize significant savings on their water and sewer bill in the Seattle area. Considering the expected price increases over the next 5 – 10 years on these utilities, a return in investment is a reasonable expectation.
New home construction in the Seattle area is required to mitigate roof runoff on impervious surfaces on site. Costs of infiltration can be expensive.  A well-designed and installed rainwater catchment system uses this runoff water for domestic use rather than infiltration. By redirecting the costs of infiltration design and construction and considering the savings on water and sewer bills, the average Seattle home owner can see a significant cost savings as well as a return on investment.
Rainwater cistern photo courtesy of water.epa.gov