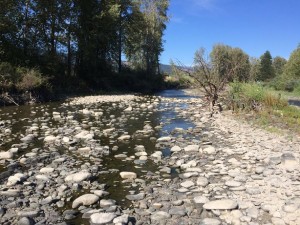 The Yakima Valley is experiencing drought conditions not seen since the 1870s.
Water rights that were among the earliest in the Territory of Washington, to be used for irrigation, have been shut off in tributaries of the Yakima River due to extreme drought conditions.
Flows in Cowiche Creek and the Teanaway River are so dire that 129 irrigators with rights conferred as far back as 1873 must stop watering their orchards, hay and alfalfa crops on some 2,153 acres. Read more about the Washington Drought here: http://www.ecy.wa.gov/drought/
Federal Drought Declaration
The U.S. Department of Agriculture has designated 18 counties in Washington State as natural disaster areas because of the statewide drought.  Farmers in these counties will now be eligible for low interest emergency loans to help defray crop and business losses incurred because of the drought.  Eligible counties are:  Adams, Benton, Columbia, Douglas, Franklin, Garfield, Grant, King, Klickitat, Kittitas, Lewis, Lincoln, Okanogan, Pierce, Skamania, Walla Walla, Whitman and Yakima.
2015 Drought Disaster Updates
This map shows designations due to drought across the country under USDA's amended rule. Any county declared a primary (red) or contiguous (orange) disaster county makes producers in that county eligible for certain emergency aid. For a text list of counties designated disaster areas, click here.
On May 15th, Governor Inslee declared a statewide drought in Washington, with the legislature allocating $16 million in funds. Some of those funds are to go towards education.
Washington State Department of Ecology recognizes and promotes Rainwater Collection as part of the solution. To read more about how to conserve water, read he article "Water Smart, not Water short" 5 ways to Secure water for Washington's  Future.
Teanaway River photo courtesy of Department of Ecology