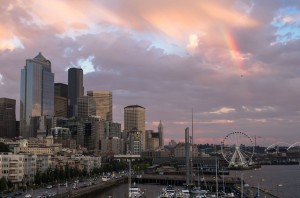 The water supply prediction scenarios from Seattle Public Utilities are in – and the outlook isn't good for Seattle and Washingtonians.
According to an article on Grist.org titled, This Drought is so Bad That Even Seattle is Running Out of Water, "Almost all the future scenarios modeled by SPU showed big drops in what's known in water-utility lingo as "firm yield": the amount of water that can be reliably delivered. Even assuming a drastic cutback in the amount of greenhouse gasses being emitted today, Seattle is looking at reduced firm yield of an average of about 30 percent through 2050, according to three of these future climate simulations. …"
One option for increasing water supply includes drawing water from Lake Youngs, but that might pull mud into the water supply, requiring expensive water treatment. Water from Puget Sound is an option but that would involve costly desalination.
So, what's one of the country's the fastest-growing cities to do? Although Seattleites have been proactive about conserving water usage over the last 50 years with efforts like low-flow toilets, there's only so much cutting back you can do when supply is tight.
An article on InvestigateWest titled, Climate Change is Darkening Seattle's Water Forecast, shares that water supply predictions are dire, even though models may be incomplete and involve guesswork and assumptions based on "what-if" scenarios.
"Quietly unveiled to regional water managers over the summer, the admittedly incomplete — and yet extremely sobering — calculations show the amount of water Seattleites can count on could be reduced by as much as half over the next 35 years and nearly three-quarters by the end of the century."
The article goes on to share: "The climate models are not perfect," acknowledges SPU climate researcher Paul Fleming. But these simulations are clearly showing that "climate change will increase the magnitude and the likelihood of those events occurring," Fleming said."
Seattle, it's time to go beyond conservation efforts like taking shorter showers and running your dishwasher less often. Do you know that with rainwater collection, you can have your own supply of water for washing laundry and flushing toilets? In some areas, you can even collect your own drinking water.
RainBank customers are already benefiting by collecting rain. Read more about RainBank systems in Bellevue, Vashon Island and the Puget Sound area and how folks are proactively dealing with More Cuts To Seattle Water Usage.