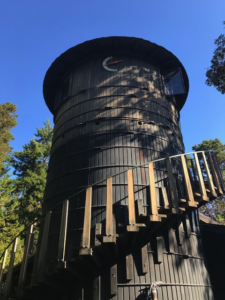 A designed rainwater collection system for the ages, Storey's water tower was designed and built as a sole source rainwater collection system for a household in the San Juan Islands of Washington State. The Storeys constructed a home on an isthmus with panoramic water views facing either side of the house. While spectacular, there was little chance of drilling a potable well, since water was only 150 feet from either side of the house. The total square foot of the house and shop would yield approximately 900 gallons per inch of rainfall.
The water is screened as it enters the roof gutter system, then finer screening and sedimentation occurs before gravity feeding into the sump tank. A float switch will activate a sump pump to convey water to this magnificent water tower, with a office space on top, to enjoy those views.
The system is pressurized with a with a centrifugal pump and pressure tank which feeds a 5-micron sediment filter followed by carbon filtration. The Story's were pleased with their new system even though "It lacks mineral value, but that's alright, as long as it keeps one mineral out – salt water.", said Mrs. Storey. That was 1977!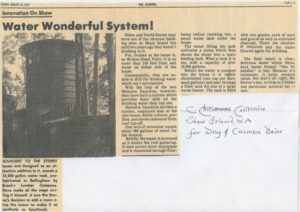 Coincidentally, I visited this house in the mid-eighties, before I had knowledge of rainwater collection. I was fascinated with the concept and impressed with the design and craftsmanship. The thought of a self-sustaining water system, when no other source was available, made perfect sense. The simple mechanics of prescreening, pre-filtering, and pressurized conveyance is the basis of best practices still used today.
I had an opportunity last month to conduct an inspection of this system for the new owners and was thrilled to see. with a few improvements and UV sterilization, this system is still producing a sustainable source of potable water, and can be expected to continue for another forty years.