Whether your Seattle area project is commercial or residential, rainwater collection or fire suppression, an affordable Contain Water Systems corrugated water tank, sold and installed by the RainBank Rainwater Systems team, is a quality choice, even if you're just at the design stage.
RainBank Rainwater Systems of Seattle has brought back affordability and excellence to the steel water tank market in Washington State. Contact us to learn how affordable a steel water tank is for your project.
With more than 15 years of experience building other manufacturers' corrugated steel water tanks, RainBank has teamed with Contain Water Systems Inc. to set a new standard of " building relationships as strong as steel".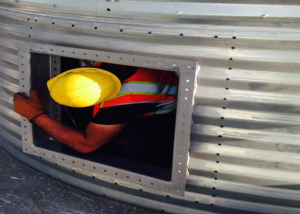 A 20 year warranty on all Contain water tanks is unmatched by other manufacturers'. On-site project management by RainBank's chief operations manager assures a safe, on time, quality install. Optional lifting capabilities allow construction in the most difficult circumstances. The industry's only through the liner access panel option eliminates confined space entry.
Drop us a note about your project needs. We look forward to working with you on your next steel water tank project.
This article was originally published in February 2017.