Rainwater collection can be part of architectural design, adding distinction to a building, bringing awareness to conservation, and letting others learn about the responsibility of green building practices.
Many new commercial construction projects are implementing stormwater management into their architectural designs, rather than simply meeting new regulations. Building designers and owners are showcasing their commitment to conservation, and incorporating functionality with aesthetics, in turn, this practice furthers customer and general public interest in conservation and rainwater collection, creating even more public awareness of the need for conservation and sustainable living practices.
"Lead by example", my father used to say, "and it will inspire others to do the same." Good advice when trying to do the right thing. Seattle and many other cities are recognizing the importance of rainwater collection as a method of controlling stormwater and are seeing the benefits associated with doing so.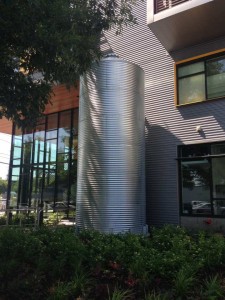 Other projects that RainBank Rainwater Systems has been involved with include:
Sea Scouts building in Galveston, TX (top, left)
The Goodwill Building, Seattle, WA (right)
Edith Green Federal Building in Portland, OR
Federal Way School District, WA
Paul Allan's project, South Lake Union, Seattle
Kirkland Safety Building, WA
Wallingford Fire Department, Seattle
Federal Aviation Building Neah Bay, WA
Tacoma School District Tacoma, WA
Seattle Arts Academy
Puget Sound Energy Seattle
Port of Gray's Harbor, WA
Mill Creek Shopping Center, WA
Orcas Island School District, WA
Fort Lewis (Joint Base Lewis-McChord), WA – and more.
Sea Scouts Base photo courtesy of GuidryNews.com