Over 600,000 acres have burned in wildfires in Washington State this fire season and 5,100 homes are currently threatened.
Fire is a frightening concept, but an unfortunate reality. In rural areas, away from municipal resources, a water tank used strictly for fire suppression may be the only way to protect your family, farm, house, or business.
An exterior wildfire suppression system includes an array of sprinklers supplied by a water source. If there is no natural w
ater source, a water storage tank designated as the source of water supply can make the difference in protection. Sprinklers attached to the roof and around the perimeter of the building are meant to saturate and create humidity. The idea is to soak the property's vegetation and roof of the home.
The amount of time a system will run depends on amount of water available. A system with 30,000 gallons of storage can prod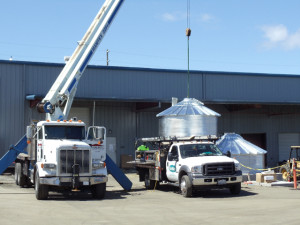 uce 30 gallons a minute for 16.6 hrs. If used with a wetting agent, the solution will stay intact for a longer period. Having a source of water designated for fire protection can be an investment that could save your home.
RainBank Rainwater Systems has been installing corrugated steel water tanks for over 15 years and recognizes the benefit of onsite water storage for wildfire protection. The National Fire Protection Association provides codes and standards for fire protection that are available for free for online viewing.
Through its Fire Adapted Communities Program, the NFPA offers information and specific actions you can take, to lower your risk in the event of a wildfire. Take a look to learn about how you can protect your home and your community from the devastation of wildfires.