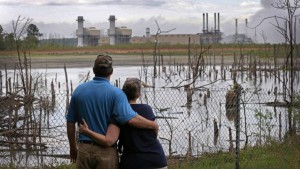 In a North Carolina courtroom, Thursday, Duke Energy, the country's largest electricity provider, plead guilty to 9 criminal violations of the federal Clean Water Act.
According ABC News, "as part of a negotiated settlement with federal prosecutors, Duke agreed to pay $68 million in fines and $34 million on environmental projects and land conservation that will benefit rivers and wetlands in North Carolina and Virginia."
Prior to the settlement, Duke spokeswoman Erin Culbert told The Associated Press that any homeowner who gets a state letter warning of a tainted well will get safe bottled water from Duke, if they request it. While denying responsibly for the problem, Culbert said Duke simply wants to provide the homeowners "peace of mind."
RainBank has questioned the safety of our water supplies with the news about Toledo's water supply affected by a toxic algae bloom – disturbing over one half million customers, and a coal spill in the West Virginia River that contaminated drinking water. The Keystone XL pipeline poses a potential threat of contamination to the Ogallala Aquifer in Nebraska. Additionally, it's being discovered that wells are being contaminated with fracking chemicals.
We can see contamination events are happening more often, which affect our safe water supplies – and provide another good reason to support decentralized water and rainwater collection.