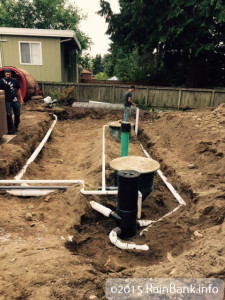 With the recent rains in Washington State filling water tanks installed this Spring and Fall, RainBank Rainwater Systems is looking forward to 2016. RainBank Rainwater Systems gears are turning by continuing to provide first class designs, consultation, construction, and sales of the finest quality of components in the industry.
RainBank recently launched a shopping cart on our website. We'd like to introduce our first component offerings – Wisy Products, which offer pre storage products that will deliver the cleanest, aerated, raw water to your system's storage, ensuring the finest quality of water. Whether your system is potable or non-potable, stored water should be free of particulate matter and aerated to keep bacteria to a minimum. RainBank is a dealer of Wisy products and offers ease of ordering on our website shopping cart.
RainBank offers filtration systems that keep routine maintenance to a minimum. RainBank recognizes that no one wants more chores to do around the house. In our designs, we consider our customers' needs and desires, striving to keep our systems user friendly. Large capacity canister filtration, back flush devices, or typical filtration – we custom design our systems. RainBank will be offering these components for sale on our website's shopping cart shortly after the first of the year and, as of 2015, have been adding them to our designs.
Many Seattle customers have been inquiring about buried tanks this past year. Because of this interest, we have researched different manufacturers of buried tanks throughout the country and Canada. We feel we have come up with the finest quality in this style of tanks and have worked diligently with manufacturers to be able to offer the best prices.
Large capacity fiberglass tanks that can be sized for commercial or residential systems are now part of the lineup RainBank offers. Smaller volume, poly tanks up to 1,800 gallons each can be connected together. RainBank has researched best practices for installation of manifolded, buried tanks and has the experience to get the job done right.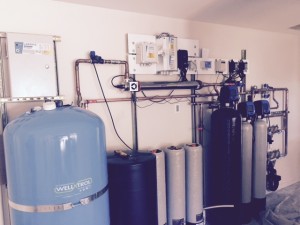 This past year and one before, we have progressively put together the best-qualified personnel with an engineering department, commercial and residential plumbing department, sales department and administrative staff. We offer services from consultation, design, construction, and now online sales. With more than fifteen years experience and now with more products and services, RainBank continues to be the leading rainwater harvesting experts in Washington State.